A.T. Still's Approach to the Foot and Ankle - Presentred on April 30/May 1, 2016 - Indianapolis, IN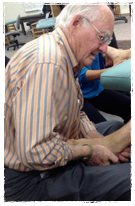 Rue Tikker, DPM, was trained by, and worked for John Martin Hiss, MD, DO.  Early in Dr. Hiss' osteopathic career, he fell off a horse and sustained a severe ankle sprain.  He traveled to Kirksville to get treated and work out the mechanics of foot and ankle injuries with Dr. Still.   Dr. Hiss went on to open the largest foot and ankle clinic in the world in Los Angles.  Dr. Tikker learned from Dr. Hiss and worked for him for years.  Continuing Dr. Hiss' work, Dr. Tikker has treated over 300,000 patients in his 55 year career and is arguably the world's expert on manipulation of foot and ankle issues.  He is a true gem and the closest living link we have to AT Still's foot and ankle work.  Please come and join us for this once in a lifetime opportunity to learn with Rue.  Class size is limited.  
Course Handouts (password given in class)
SI Joint Pain and Sacral Somatic Dysfunction, Presented in December 2015, Indianapolis, IN.
Lecture content (password available in class):
Pelvic Mechanics - the Mitchell Axis System
Prolotherapy/Trigger Point Therapy
A Sutural Approach to Osteopathy in the Cranial Field - Presented in August 2014, Indianapolis, IN, and coming again soon.
For more information, visit www.cranialsutures.com