The Bow and the Bowstring: from Postural Imbalance to Chronic Pain 
Presented September 8-10, 2017, Indianapolis, IN.              
Based on A.T. Still's reference to the archery bow and its string, this course will introduce diagnosis and treatment of the mechanical midline and its structures.  Although other courses have addressed the embryological, vascular and neurological midline, we will explore the physical structures that make up the midline, how to assess them for dysfunction and how, in what order, and when to treat them.
What do a tight linea alba, tongue tie, anosmia, recurrent knee pain, plantar fasciitis, and a chronically flexed vertebra all have in common?  They can all occur from restricted midline structures.  If your patients have pain, postural, hormone or growth issues or they are returning for the same complaint over and over - A.T. Still would suggest that we need to look at the Bow or the String for the possible cause.  Abnormal tensions in these midline relationships can be the cause of chronic conditions that are difficult to treat otherwise. 
The course will begin by exploring 3-D palpation to obtain a better sense of how tissues are supposed to move together.  Analysis of 3-D palpation will uncover structural relationships between tissues and how they feel under the hands.  This will guide us into diagnosis of the midline structural restrictions.  As we explore the body's regions and their structures, we will learn to feel the sequence or hierarchy of the structures and the restrictions they cause.  Rational treatment of the restrictions and the impact on the body when freedom returns will then be examined.  
A.T. Still's Approach to the Foot and Ankle - Presentred on April 30/May 1, 2016 - Indianapolis, IN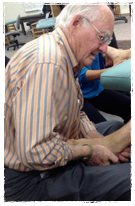 Rue Tikker, DPM, was trained by, and worked for John Martin Hiss, MD, DO.  Early in Dr. Hiss' osteopathic career, he fell off a horse and sustained a severe ankle sprain.  He traveled to Kirksville to get treated and work out the mechanics of foot and ankle injuries with Dr. Still.   Dr. Hiss went on to open the largest foot and ankle clinic in the world in Los Angles.  Dr. Tikker learned from Dr. Hiss and worked for him for years.  Continuing Dr. Hiss' work, Dr. Tikker has treated over 300,000 patients in his 55 year career and is arguably the world's expert on manipulation of foot and ankle issues.  He is a true gem and the closest living link we have to AT Still's foot and ankle work.  Please come and join us for this once in a lifetime opportunity to learn with Rue.  Class size is limited.  
Course Handouts (password given in class)
SI Joint Pain and Sacral Somatic Dysfunction, Presented in December 2015, Indianapolis, IN.
Lecture content (password available in class):
Pelvic Mechanics - the Mitchell Axis System
Prolotherapy/Trigger Point Therapy
A Sutural Approach to Osteopathy in the Cranial Field - Presented in August 2014, Indianapolis, IN, and coming again soon.
For more information, visit www.cranialsutures.com